Combine premium aesthetics and affordability with authenticity, we present the bamboo style faux panels. This DIY-friendly bamboo wall cladding is versatile from backyard grill bar to world-class retreats and everything in between. With our durable and weatherproof material selection, our bamboo panels can effectively prevent overtime corrosion.  Choose from the OneThatch® collection to fit your decor requirements.
The World's Most Natural-Looking Faux Bamboo Panels, Bamboo Wall Claddings, Bamboo Mats.
Our easy-to-install OneThatch Bamboo Round Wall Panels allows you to build a tropical paradise in any location in no time.
The installation process, compared to the traditional bamboo products, is more labor and time efficient. Follow our instructions, the Bamboo Wall Panels will be set-up in no time.
The characteristics of bamboo have been crafted in nylon.
The realistic artwork by appearance is a perfect replicate of the real bamboo. The long-lasting, weatherproof material does not emit toxic substances, nor does it corrode overtime. Our goal is to ensure that you can enjoy its sense of nature for the time to come. 
Bamboo Wall Aluminum Panel
Our aluminum bamboo panels, bamboo wall claddings allow for a broad range of flexibility to create custom sizes, diameters, shapes, and bamboo textures – if you dream it, we can create it.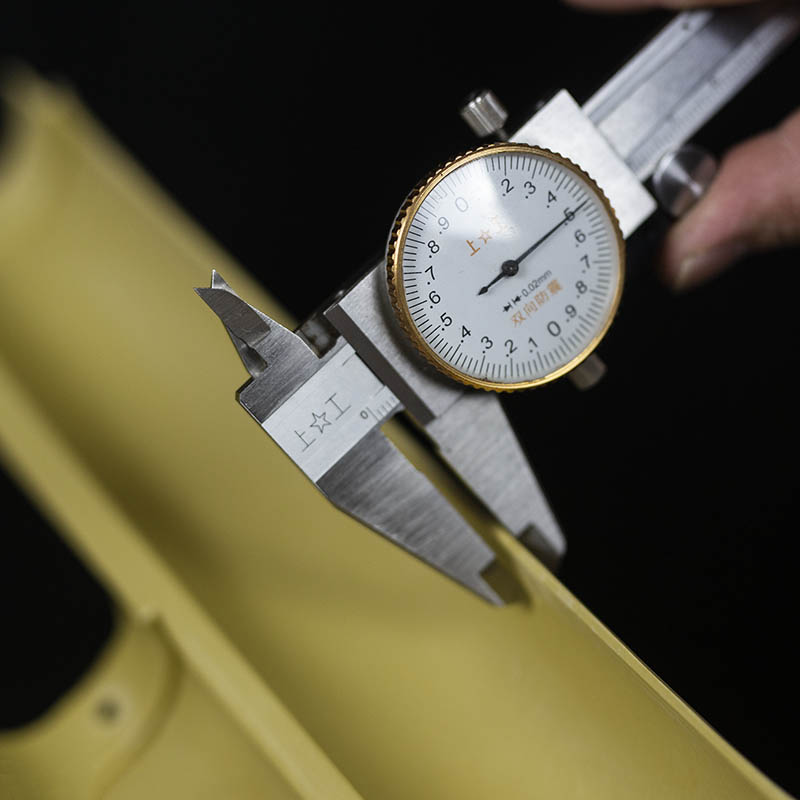 We take pride in our bamboo panel quality, which is durable enough to let you enjoy decades of worry-free beauty.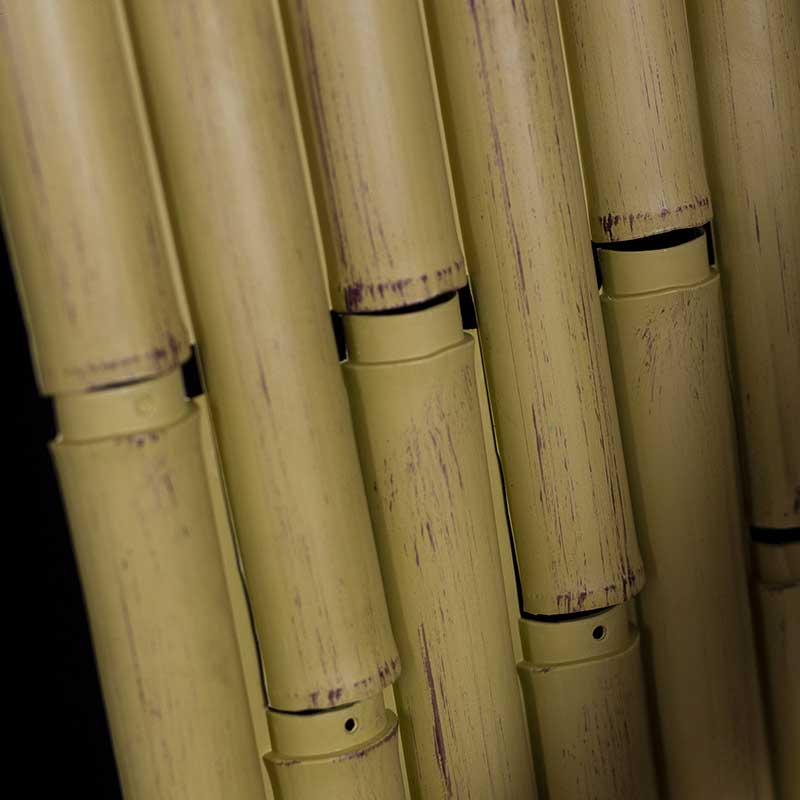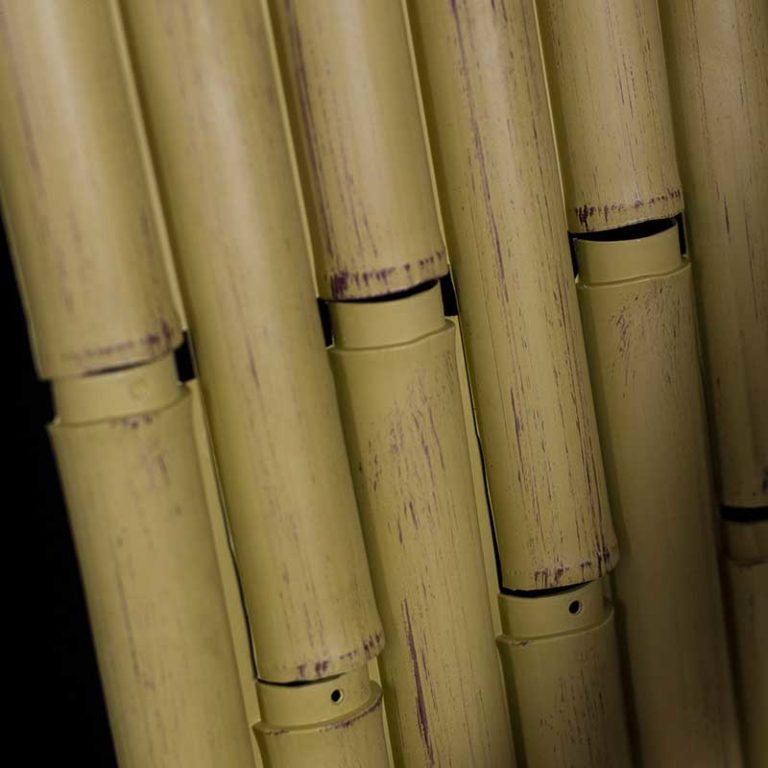 OneThatch decorative faux bamboo panel is easy to install and can be easily mounted against the walls or wood posts.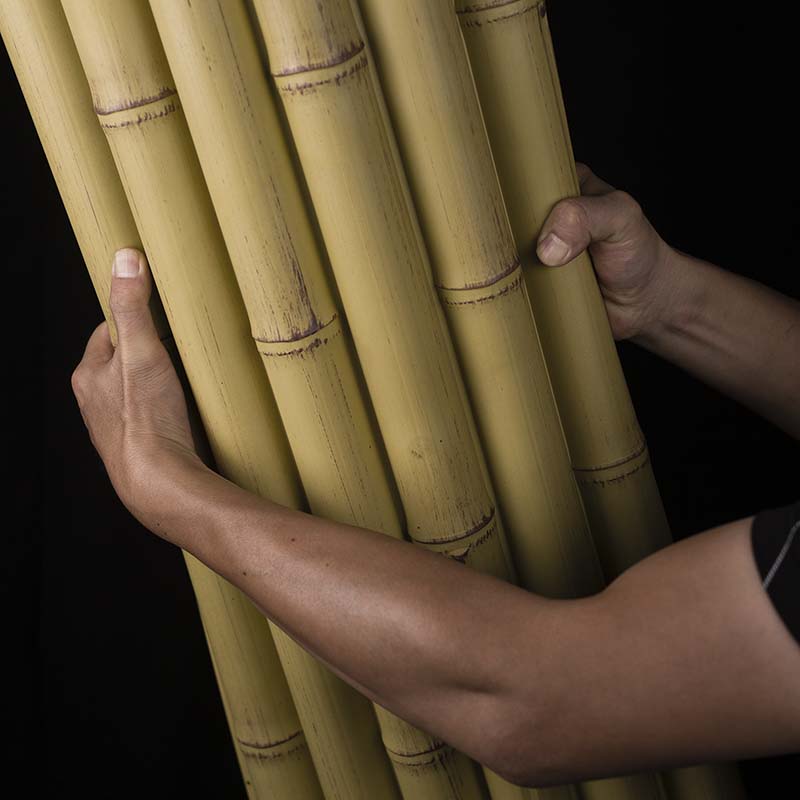 The authentic texture and detail of the natural bamboo panel have been handpainted to reproduce every fine detail and characteristic.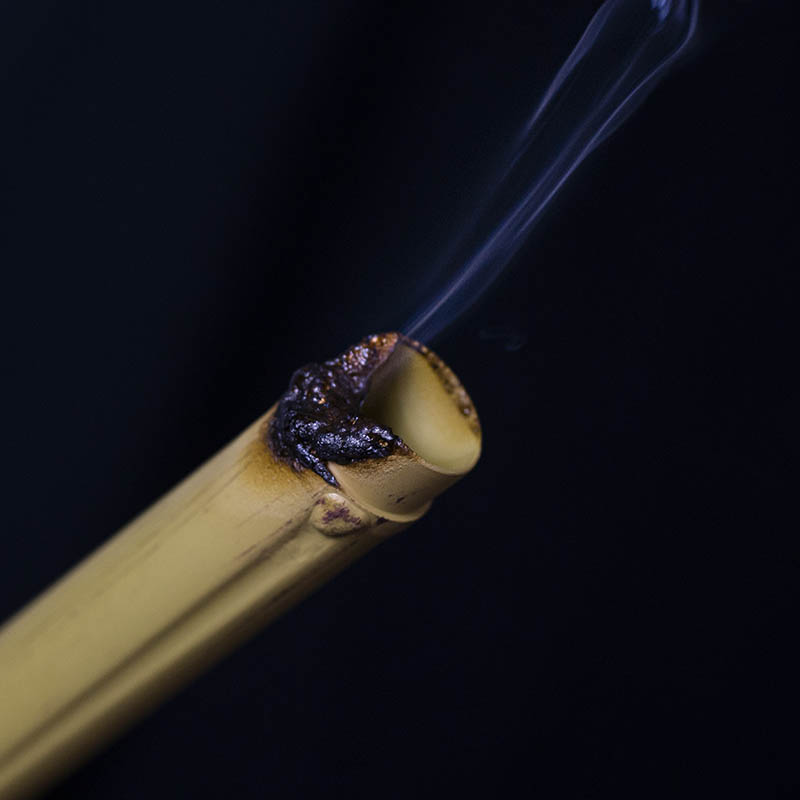 Safety should never be a concern. All bamboo Panels are made from our formulated class A fire-retardant materials.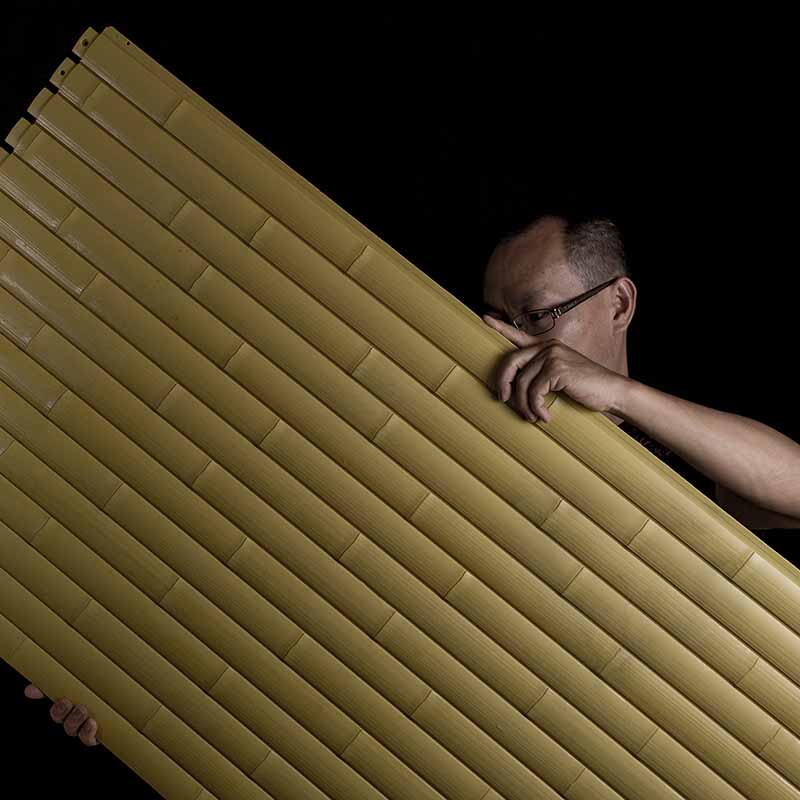 Unlike PVC "bamboo" that will evaporate toxic additive into the air over time, our bamboo panel is made from non-toxic, recyclable materials.
All OneThatch® products are designed to exceed your expectations
Looking for a quality-oriented faux bamboo panel supplier for your next project? Large projects can qualify for factory-direct pricing.
We go beyond the required levels to be a quality-oriented synthetic materials supplier. As such, we have obtained ISO 9001 certification.
Unable to locate your dream synthetic bamboo panels or bamboo fencing panels?
You're in luck. We have custom solutions for you! Send us an email and let's talk. We design and manufacture all synthetic materials directly. Only the best, no middlemen, request a free sample and see for yourself. Send us an email and let's talk!
Bamboo Panels for Walls, Ceilings, and Fencing
Bamboo fencing panels, wall coverings are versatile for all types of designs.
Recreate the beauty of traditional Japanese bamboo fencing, providing your house with a sense of calmness atomosphere.
OneThatch offers an extensive collection of bamboo fencing products, including round bamboo wall panels, half round bamboo poles, and bamboo slat panels.
These bamboo fencing products can be utilized to DIY bamboo fencing, borders, and private screens for tropical backyards, Japanese zen gardens, tree houses, Tiki huts. 
Our bamboo wall claddings are perfect for covering ceilings, walls, mounting under counters, and fence building. Great for trade show background, pop-up shop, convention events, themed zoos, and any tropical themed design.
Features:
Realistic appearance
Fire-resistant (Class A)
Free of maintenance
Color, style and texture customization service
DIY friendly
OneThatch, as a designer and innovator, is offering aesthetically premium bamboo wall panels to help our clients achieve the amazing look for their project. All our products are eco-friendly, durable, uv-resistant, class A fire-retardant.
The Bamboo Panel collection illustrates the perceptions left by nature. These classy collections of carefully design bamboo wall claddings spread classic as well as contemporary designs in a mix designed in various natural planet tones. These synthetic bamboo products are Green as well as sustainable as they do not harm the environment when they are created or thrown away. With a selection of colors to pick from, you bring your wall to the forefront of style.
Make your next celebration an exotic island event to be remembered with our bamboo wall panels, bamboo fencing panels, and bamboo slats. Our easy-to-install OneThatch Bamboo panels in Bronze, Weathers, as well as Young tones, let you develop a tropical heaven in any setup, at a portion of the time as well as labor prices of conventional bamboo. With our light-weight bamboo home siding and also simply a few hours to decorate, you'll be relaxing poolside in your very own personal unique sanctuary … well prior to your visitors show up! Each panel is 39 inches high, 27 inches wide, and also weight is simply 7 pounds.
Bamboo paneling can be made use of in a range of means, consisting of, however not necessarily restricted to paneling for ceilings, walls, islands (both in and outdoors), cabinets and also even more! Bamboo panels are merely a fantastic enhancement to anyone who is looking to add a modern, a little exotic really feel right into their home or office decor. Furthermore, Bamboo paneling can be used to include fun highlights to room– offering stated space a unique appearance every one of its very own– and even be utilized to a little additional security to things than normally experience an excellent amount of deterioration, (such as cabinets). Whatever your usage, however, Bamboo Panels– as a result of their versatile and versatile nature– make sure to be able to fit all of your paneling requires