Designed to reproduce the beauty of natural bamboo fencing typically used in Japan and China, OneThatch® artificial bamboo fencing products are carefully crafted from durable, eco-friendly materials. Wherever you installed faux bamboo fence, you'll be astonished at how well it withstands harsh climate conditions, pest damage, and general wear & tear for decades while still looking fabulous.
Os produtos de cercas e peneiras de bambu sintético com aparência mais natural do mundo
Kenninji-Gaki sintético (建 仁 寺 垣)
Mantendo a beleza da cerca de bambu natural Kenninji-Gaki, o OneThatch oferece o Kenninji-Gaki em sua forma mais natural, sinteticamente. O Kenninji-Gaki, assim como muitas das outras cercas de bambu japonesas, é organizado com padrões erráticos de ripas de bambu e é mantido unido por postes de suporte horizontais (oshibuchi). OneThatch replica todas as suas belezas naturais juntas e o torna mais sustentável, ecologicamente correto e seguro.
A cerca sintética Tokusa da OneThatch é montada com painéis de bambu falso e postes de madeira de alumínio. A forma original da cerca Tokusa é por postes de madeira, portanto, a durabilidade é uma grande preocupação. Com o design do OneThatch, preservamos seu toque naturalista, bem como os padrões de madeira de sua forma original no alumínio, que dão origem à cerca Tokusa Sintética.   
Misu-Gaki sintético (御 簾 垣)
A cerca de bambu com tela sintética, chamada Misu-Gaki, é usada por famílias imperiais há muito tempo no Japão. As características mais distintas do Misu-Gaki são os trastes horizontais entre as barras verticais de bambu. OneThatch replica o trabalho artístico do artesanato japonês no bambu sintético para fornecer a réplica mais elegante e duradoura. 
Yotsume-Gaki sintético (四 目 垣)
A cerca Yotsume-Gaki é uma cerca típica vista no Japão. Normalmente, existem quatro buracos horizontais entre os bambus, daí o seu nome Four-Eyed Fence. Devido à sua forma, a corda (shuro nawa) dá uma aparência mais visual do que outras cercas.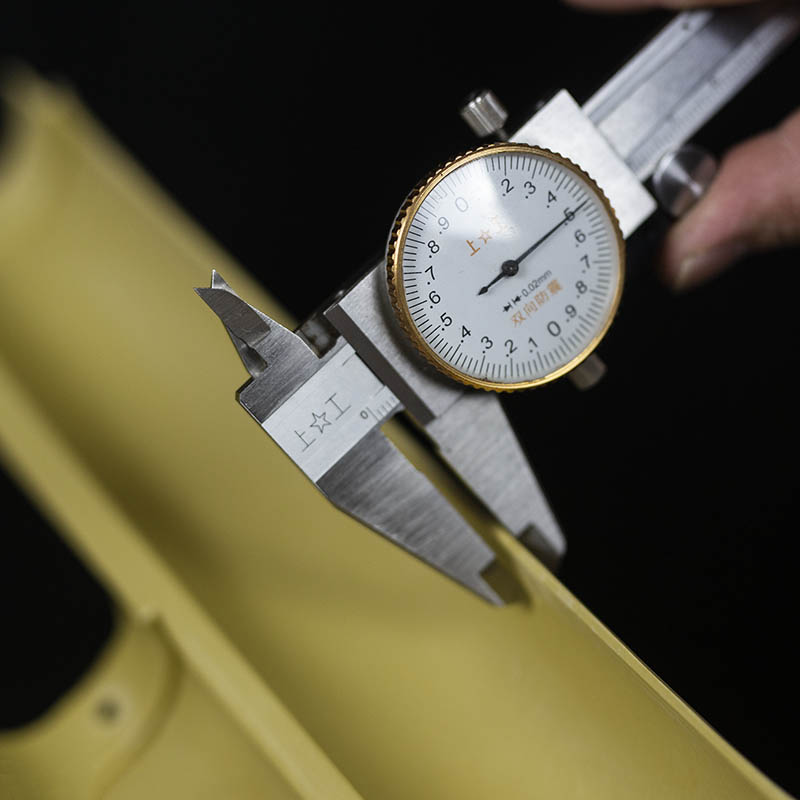 Temos orgulho da qualidade de nossa cerca de bambu, que é durável o suficiente para permitir que você aproveite décadas de beleza sem preocupações.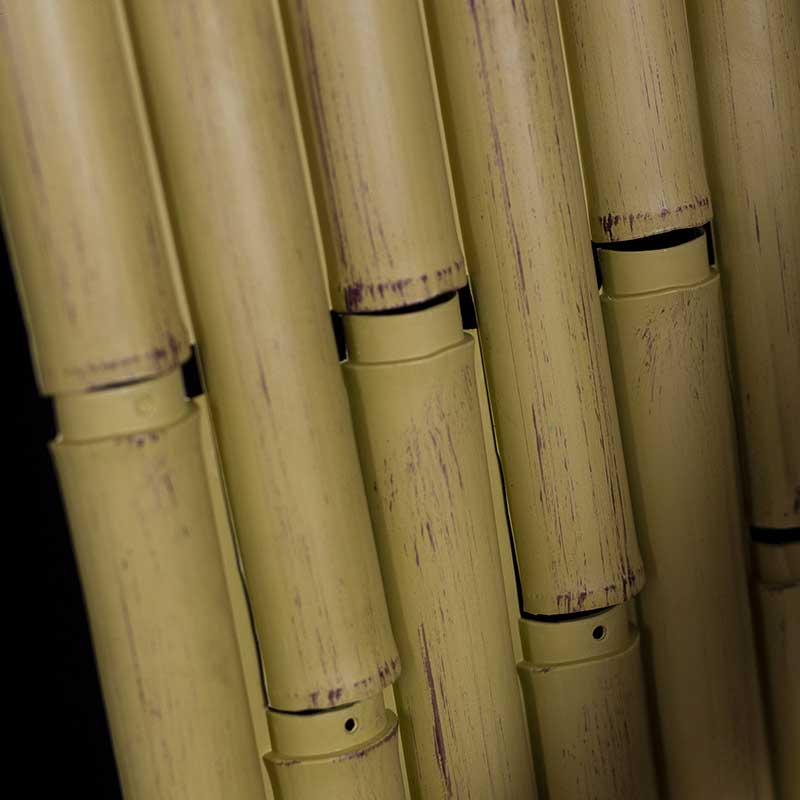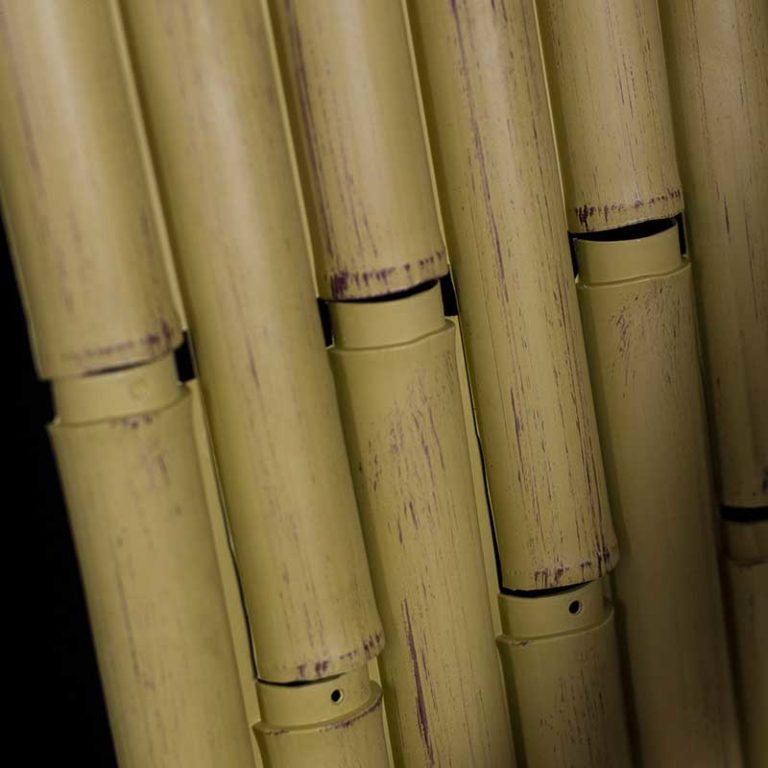 O painel de vedação decorativo falso OneThatch é fácil de instalar e pode ser facilmente montado contra as paredes ou postes de madeira.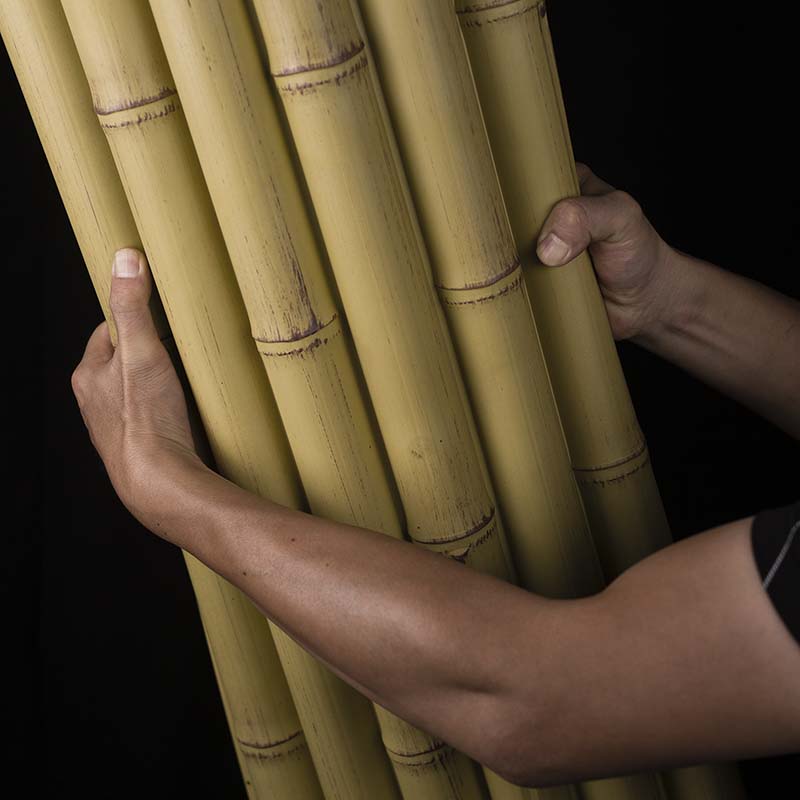 A textura e os detalhes autênticos da cerca de bambu natural foram pintados à mão para reproduzir todos os detalhes e características.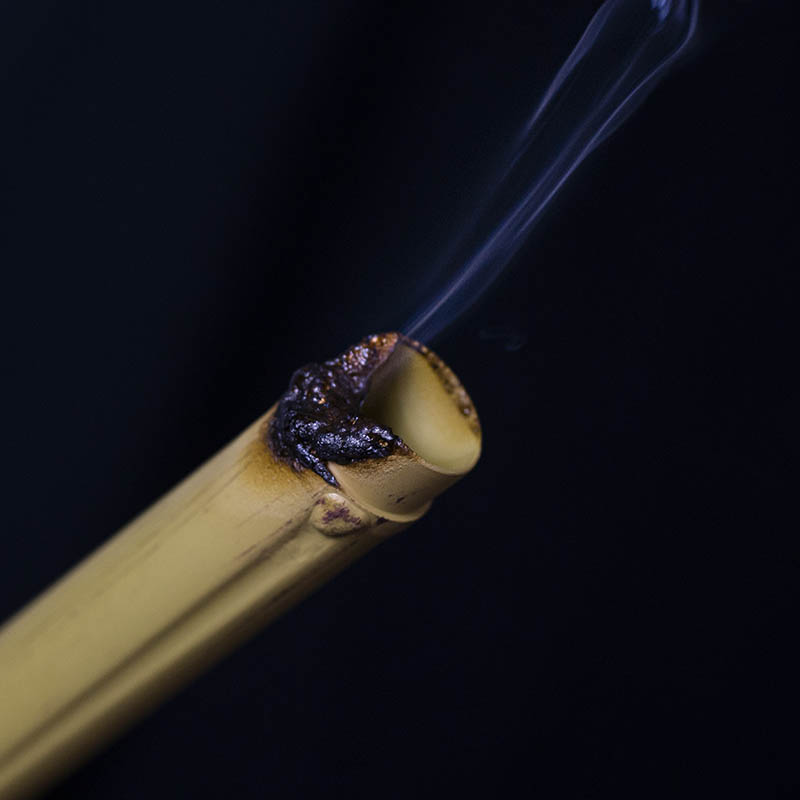 A segurança nunca deve ser uma preocupação. Todas as telas de bambu são feitas de nossos materiais retardadores de fogo de classe A formulados.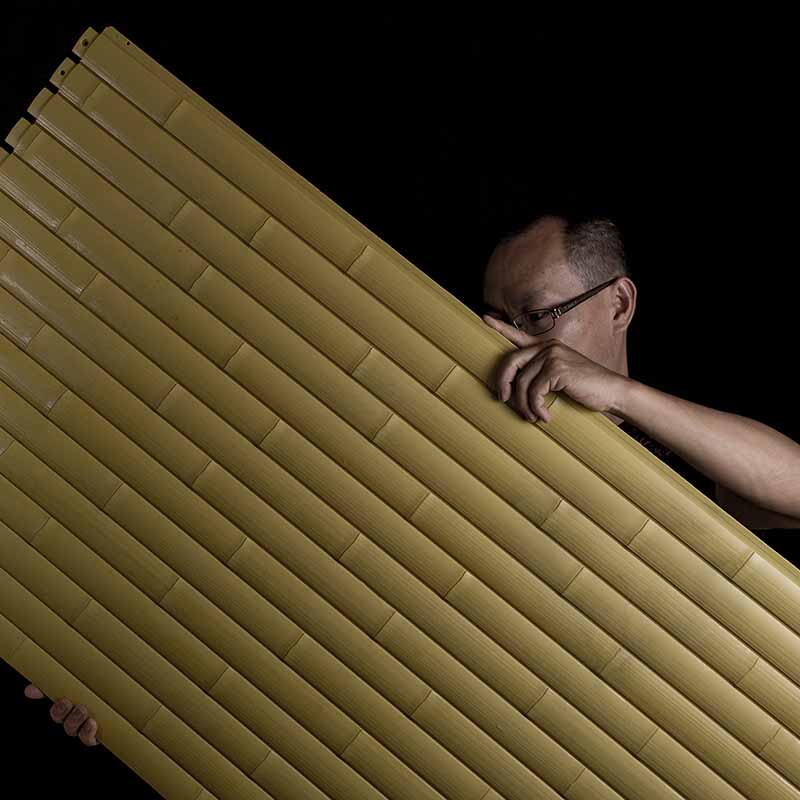 Ao contrário do "bambu" de PVC, que evapora o aditivo tóxico no ar com o tempo, nossa cerca de bambu é feita de materiais recicláveis não tóxicos.
Nós vamos além dos níveis exigidos para ser um fornecedor de materiais sintéticos voltado para a qualidade. Como tal, obtivemos a certificação ISO 9001.
Procura um fornecedor orientado para a qualidade dos seus produtos de cercas e peneiras de bambu sintético? Projetos grandes podem se qualificar para preços diretos de fábrica.
Todos os produtos OneThatch® foram projetados para exceder suas expectativas
Não foi possível localizar os produtos de cercas e peneiras de bambu artificial dos seus sonhos? Você está com sorte. Temos soluções para você! Envie-nos um e-mail e vamos conversar. Nós projetamos e fabricamos todos os materiais sintéticos diretamente. Somente os melhores, sem intermediários, solicitam uma amostra grátis e veja por si mesmo.
Elevamos seu design impecável ao desenvolver alternativas sintéticas autênticas e duradouras. Você não precisa mais se contentar com palha natural e produtos de bambu que expõem mais seu projeto a riscos.
Uma réplica perfeita de cercas de bambu natural
Uma cerca é geralmente o primeiro objeto notado em qualquer casa que tenha um impacto significativo na aparência e impressão.
As cercas de bambu tradicionais podem se deteriorar, rachar e parecer deterioradas com o tempo.
Não é apenas a aparência fabulosa da cerca que importa, mas também o quão bem ela faz o trabalho e quanto capital e tempo são necessários para garantir que a beleza da cerca de bambu esteja à altura da tarefa.
É por isso que a OneThatch desenvolveu uma solução de bambu sintético para garantir que todas as suas necessidades e desejos de cercas sejam atendidos.
Recursos:
Aparência autêntica
De longa duração
Livre de manutenção
Fácil de instalar
Bamboo fencing
Aprecie a beleza dos materiais de cercas de bambu tradicionais chineses e japoneses em seu jardim, quintal e resort por décadas. 
OneThatch, a brand of top quality, was created for this purpose.
We have carried more than two decades of synthetic product design and manufacturing experience to reproduce natural bamboo fencing and bamboo screening products.
All without compromising the finest details of natural fencing bamboo. 
Plus, our artificial bamboo poles, bamboo fence panels, and bamboo fences are made of environmentally friendly material, supporting lead credit.
We proudly offer you the most realistic fencing bamboo reproductions available on the market with a 20-year warranty to cover color fading risks.
Thus you can bring your bamboo fencing design project to life and enjoy decades of worry-free beauty.
Artificial Synthetic Bamboo fencing 
funciona bem quando envolve um jardim ou quintal em estilo japonês. Pode fornecer uma aparência de inspiração zen para qualquer quintal e fazer com que sua área de jardim pareça fabulosa e contemporânea. Você pode optar por comprar alguns rolos sintéticos curtos para cercar o jardim para detalhar seu jardim vegetariano ou um cercado de bambu de plástico mais longo como pano de fundo para o seu jardim de flores, fontes de água, lagoas, etc.
Por que não usar nosso triagem de bambu artificial filtrar áreas indesejáveis, como a sua unidade de ar condicionado, tanque lp ou área de coleta de lixo? As alternativas para seus usos são ilimitadas.
Its natural look will help you seem like you are one with nature in your own backyard. You can organize your bamboo garden fencing in several methods. You can select to produce different patterns, shapes, and colors with the many various bamboo garden fencing ranges.
Natural-looking synthetic bamboo privacy screen fencing is one of the most popular fencing items among property owners because of its simplistic design and a mix of natural beige, yellow, and tan colors. It can be utilized in both indoor and outdoor projects to develop the Asian paradise atmosphere.
Artificial bamboo is virtually termite complimentary. It is effortless to deal with and easy to install and is considered one of the most ecologically sustainable items in house structure and design. If you are searching for an easy, Do Yourself fencing project, synthetic bamboo fencing panels are straightforward to install and are rather long-lasting for long-term usage even in the extreme outside weather.
Você pode usar nosso painéis de cercas de bambu sintético as an alternative to natural bamboo fencing to change the entire atmosphere of your house effortlessly.
You will not regret using plastic version privacy screen bamboo fencing instead of natural bamboo for fencing, which isn't as eco-friendly and recyclable. Natural bamboo for fencing materials needs a lot more chemicals and resources to be used during the harvesting and transportation procedure.
Faux Bamboo Fencing
Using a faux bamboo fencing panel não é apenas uma excelente opção para o meio ambiente, mas também pode oferecer à sua casa um pouco mais de clima tropical e também tem o benefício adicional de garantir a privacidade em sua casa. A opção de utilizar bambu natural em sua casa ou jardim é uma excelente opção para durabilidade, sustentabilidade e design tradicional de jardins japoneses.
Bamboo Fences Are Design Options and Affordable
Come to OneThatch, you can have many numerous choices for your projects with the top quality bamboo fence panels as well as durable material. We offer 4ft, 6ft, 8ft high & 8ft wide bamboo garden fence in both Carbonized or Natural includes split bamboo rolls of high-quality bamboo fencings product.
Bamboo fencing Carbonized
Bamboo fencing Carbonized has unique process therapy — Color put on bamboo with steam warm therapy without any chemical toxic – result to rich color tone of deep dark brown or black bamboo color in both of outside and also within bamboo, not stained or not colored.
Bamboo Fence Natural
Natural Bamboo fence is one of the most popular bamboo fencing roll items as a result of its simplified layout as well as also a mix of all-natural off-white, yellow, as well as tan colors. It can be utilized in both interior and also outdoor projects to generate the standard heaven setup. Natural Bamboo secure fencing can be utilized for several of your jobs. Dimensions include: 1.25″ X 4′ X 8′, 1.25″ X 6′ X 8′, and 1.25″ X 8′ X 8′
Bamboo fencing Splits
The split bamboo fence roll is made from thin bamboo strips. These strips are about 1.75 inches broad by 3 mm thick, and also are linked & with galvanized steel cable. Our split bamboo slats fences are offered in 3 different sizes, 4′ X 8′, 6′ X 8′, 8′ X 8′. Be innovative and improve your Outside Area visual allure with Natural split bamboo secure fencing.
Bamboo Fencing Woven Panel
The bamboo panels slats style in this panel is woven run throughout the entire width and also are 1 inch thick with 5 mm. The structure is composed of 3-inch brown color or black bamboo posts that accompany a cross pole 2 inches. These effective bamboo slats ensure security as well as incredible stamina
Bamboo Fencing Panels
Our Bamboo Fencing Panels are an outstanding choice when searching for a strong timber that made the Delta River an Old-fashioned fence, unlike the others. The variants of dark brown bamboo color bamboo fence running up and down throughout the rustic black bamboo pole make your strong panels forecast a lovely.
Pólos de bambu artificiais
Our artificial bamboo poles or plastic bamboo poles can be utilized to create bamboo fences effortlessly. Molded from natural bamboo poles, our bamboo materials look like the real thing, but also made of durable, fire-resistant material. Comes with 20 years warranty against color fading. Contact us for more information!
Bamboo Secure secure fencing boosts the sensation of loosening up holidays, shoreline hotels, and natural marvels. A growing number of designers are integrating these products right into their task concepts.
Slat Kenninji Fence
The slat Kenninji fence is fundamental but keeps an exceptional look. It is one of the most usual screening style fence situated in Japan as well as China. Making use of the right, consistent bamboo slats pole makes this fence among one of the most privacy-providing of high quality bamboo fence roll styles. The thick half-rounds that are requested the straight rails include in the robust constitution of the slat fence.
Nevertheless, original bamboo fences & privacy fence panels fulfill their barriers. With time, these all-natural bamboo wall fences will shed their shade and additionally begin to decay. You will definitely be compelled to squander cash money to alter them repeatedly.
That's why OneThatch exists. We produced one of the most realistic-looking faux bamboo secure fencings that perfectly replicates every information about natural color bamboo. The specific information of the synthetic bamboo wall for the yard was handpainted by our competent craftsmen, as we never jeopardize on the finest information.
Ecológico
Our artificial bamboo privacy fence is likewise eco-friendly as they are durable, 100%recyclable, high quality, natural bamboo look, and include no polyvinyl chloride (PVC).
Please do not hesitate to contact us today if you have any type of issues.
Privacy your Japanese Design garden with easy to install bamboo fencing panels and also postes de bambu artificial. In addition made with the tough, eco-friendly synthetic bamboo pole as well as aluminum bamboo building. Better our fencings as well as Furniture are similar to Japanese yards throughout the globe. Bamboo Secure fencing, as well as Furniture, will certainly bring a sense of zen and reflective serenity to your yard. Can be used as freestanding fencing panels, affixed to existing wall surfaces or dividings to create private spaces. Our easy to install bamboo fences products produce boundaries to your very own personal slice of Japan. Plus boost the appearance of your outside area, patio area, or walkway. Lastly, now you have all you require to develop the boundaries to your perfect dream yard or outdoor tropical patio!